I was put on to this by a colleague who likes a tipple of real ale. He had come across this place on his travels and knowing that I liked to eat all sorts kindly recommended it to me. Nishi Hara which is going out of town from Shinjuku is not exactly a convenient place. However this Pastrami sandwich is absolutely the nuts. I will revisit this place just for the pastrami sandwich. The little town itself seems full of little quirky places that seem worth a visit so next time I will give myself a little more time.
Back to Freeman Shokudo, I have in my time in tokyo toyed with the idea of opening a roast pork sandwich shop. Knowing how hard it is to make this work my hat goes off to who ever the owner is. He seems to have made it work which is not easy for sandwiches in Japan. Sadly, the venerable sandwich has a fallen into this position of cheap convenience store snack in Japanese food culture, and pulling it out of the black hole that is convenience store culture will be nigh on impossible. The sandwich is not cheap around 2000 but I have to be honest given the portion and the obvious effort it takes to make I actually thought the sandwich was cheap. Now coming from the UK this sandwich made me reminisce about Bagel Bakes salt beef sandwich in Londons east end. Needless to say it is good I have not had anything close to this in Japan. Maybe Smokehouse in Omotesando but I prefer this one.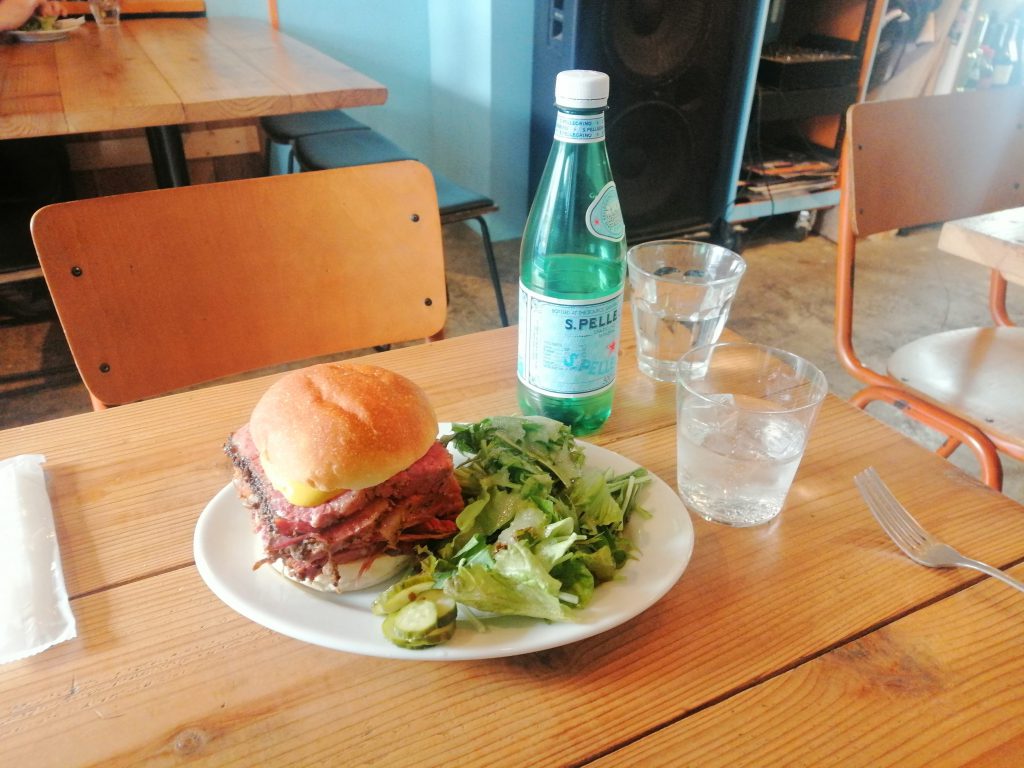 I gather from the presence of DJ decks that the place might be more vibrant of an evening and I hope to revisit when it is warmer and I can cycle out here. I look forward to being able to explore the diner menu which is more expansive it seems.
Either way who ever you are Mr Freeman well done on some great nosh.