I like Tempura.  It is kind of reminiscent of the Fish part of Fish and Chips in the UK.  So it is a little nostalgic for me.  It of course is not fair to Tempura to make that comparison, because though I like the UK Tempura is far superior.  I have eaten in Michelin starred Tempura places and they are wonderful.  Kimono dressed waitresses, live shrimps, fine table wear and Japanese minimalist, calm atmosphere.  With drinks you are looking at 15,000 Yen.  When I am in the mood for Tempura with out the flash, this is where I go.
Kaneko Hannosuke has two restaurants quite close to each other in Nihon Bashi.  One is the Tempura don and the other is the Tempura meshi.  I recommend the Tempura meshi.  You will have to wait.  The queue will be about thirty to forty minutes and this seems to be almost at any time of day.  The menu is super simple; Tempura meshi 980 Yen, or Tempura meshi with Anago 1,380 Yen.  I recommend the Anago.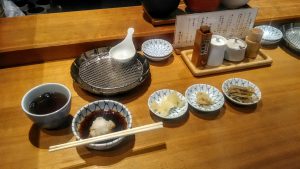 The Tempura is made to order and is very good quality not quite michelin star but considerably better than average places.  You also get to have the pickles.  One is burdock root, Gobo kinpira. There is also the squid pickle and the daikon Takuwan.  Try all three they are nice.  The meal comes with Miso which is usually a clam based miso and rice.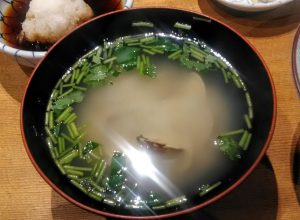 The First plate of Tempura is Shishitou, Maitake, Egg and Anago.  The Anago I recommend you eat in the following way.  First, the tail with a sprinkling of salt.  Then the middle part with the tentsuyu.  Lastly, the belly with a little dash of soy sauce.  I learnt that at the higher end venue but you get three really nice flavours out of the single piece of Tempura.  The Maitake is for sure in the tentsuyu, while the shishitou I would be open to having with just salt.  Something not far from Pimentos del Padron in the Spanish Tapas.  The egg keep for later.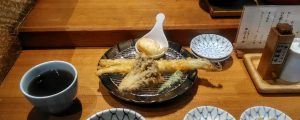 The second plate is the Shrimp, chicken, pumpkin and kakiage.  Now I think purist might baulk at the chicken and I myself often question the value of it being there.  Still it is there and it is not bad though I would personally prefer another vegetable over it.  Shrimp I usually eat half with salt and the tail end with tentsuyu.  I eat the tail if it looks delicate and crispy as in this case.  The pumpkin is also tentsuyu for me along with the chicken.  The kaki age I like to put over the rice.  In this instance ,with the soft egg tempura aswell you have to remember to leave a little rice to finish off with the egg tempura and a little sauce sauce.  Something close to a Tamago Kake Gohan finish.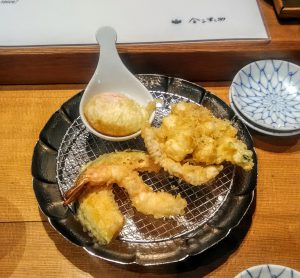 You will be full and you will not find a better value lunch than this in any city other than Tokyo.