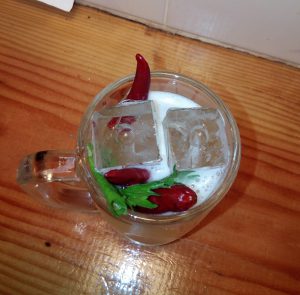 It is rare to have bad culinary experiences in Japan.  However, this drink was one such a rare blunder, Chilli Shochu Chu Hai in a small oyster bar, I will leave unnamed as it would be unfair to put a poor light on them, given everything else was great.  You see something like this on the menu and you think, I must try it.  It piques your interest in an odd fashion.  You then figure it must be drinkable, otherwise it would not be there on the menu.  After all we are in Japan and it is hard to blunder when ordering.  Visually quite an appealing drink. The three bright red Chillis with the Shiso leafs green, really bring the drink to life.   Then you take your first sip and you realise that there really are some crazy spice addicts in this country.  Whats wrong is that your lips mouth and throat are burning now.  Secondly its only flavor was heat, so no real taste sensation to take the edge of the heat or make the drink worthwhile.  The Shiso leaf was an interesting garnish, though it had no flavour effect on the drink. I ended up eating it to see if it would stop my lips from tingling.  I did not manage to finish this drink, because my lips were burning and out of fear of what it might do to my system overnight.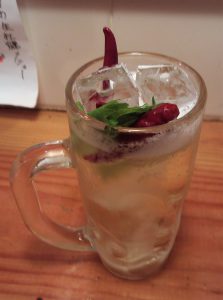 Still, life is all about trying things out, so I am glad I tried it and in the future I will refrain from ordering it.
I also spotted a funny pot of hair wax in this restaurant. I thought I would share it.  Some of the english you can spot in this country is hilarious, even after 17 odd years.  Besides being called "Cocks Grease,  Extra hard" at first glance I thought it said "Hair Gonads" on top. It was in fact "Hair Pomade". Still what a wonderful brand name and catchy slogan.