Some Cuisines are hard to find in Japan and Middle Eastern is one of them.  Kuumba du Falafel is run by a couple of young guys and in essence Falafel is pretty much all they do.  Luckily they do it well.  So next time you have that urge for a Falafel sandwich go find this little gem.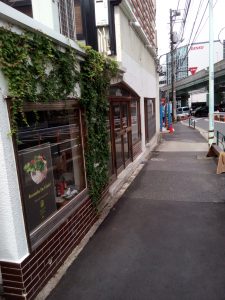 It is right at the back end of Shinsen up on Kyu Yamate Dori.  A poky triangular restaurant with I guess ten stools at a counter.  Some might moan that a Falafel sandwich should be cheaper, but I doubt they have had such an artistically minded person put one together like this before.  It almost looks like a flower when you get it.  They are not overly heavy on the seasonings, but they have a nice Tahini drizzled over the sandwich.  Personally, I like a little heat and the homemade Harissa is nice, not absurdly hot and salty, as some are, but milder and just right with the Falafel sandwich.  The bean soup was ok, too plain for my taste but was good to have with the sandwich.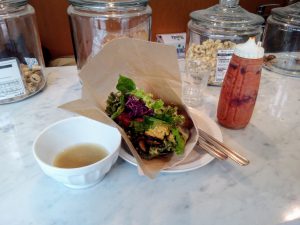 The sandwich itself is full of salad, so you can feel like you have done your bit of healthy eating at least for this day.  The Falafel made to order are still crunchy, warm and fragrant.  I think this sandwich would win prizes if there was a Falafel competition.  I encourage you to go and try this one lazy afternoon.
Just as a nice little touch, check out their plates.  They are designed to look like a paper plate.  Very satisfying and pleasing to have found it in Tokyo.