In a somewhat off the beaten track place, all the way up the Meguro river, is an old converted warehouse.  On the ground floor is Stall a cafe/restaurant.  This place is great for a quiet easy lunch.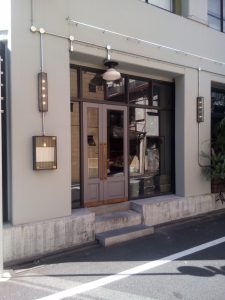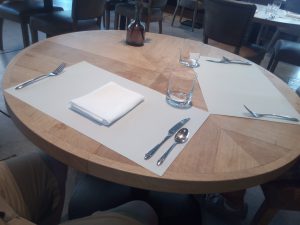 Food is western.  The menu limited but adequate, a Salad, a Deli plate, choice of two Pasta dishes or a Meat dish.  The lunches come with soup, bread and coffee or tea.  I plumped for the Deli Plate with 5 salads; a nice green salad with vinaigrette, sweet potato quiche, non traditional Tabouleh, carrot rapée, and a small piece of grilled chicken.  The soup was a nice little pumpkin soup. The bread basket of lightly toasted brown bread and the coffee were both of a good standard. The food is very acceptable, not extraordinary, but above par.  For 1200 Yen there are certainly no grumbles.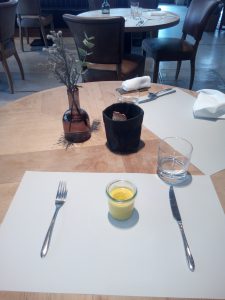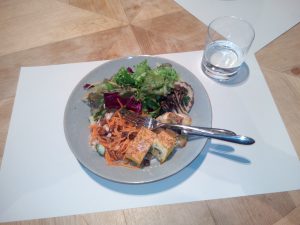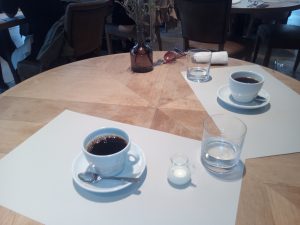 However it is the interior decor and spaciousness that tip this place over into the worthwhile.  Being what I assume is a warehouse conversion, the ceiling is nice and high.  The tables are large, with plenty of space around them.  The large windows on this sunny day made the room very bright and the quality of the interior design, the furniture, the linen napkins, the heavy set tumbler for water just gave it all a little "Je ne sais quoi".  I would be tempted to come back of an evening to see what the cocktails are like.
So treat yourself to a nice stroll along the Meguro river.  Lunch at Stall, followed by a walk back popping into a few of the small designer clothes shops. It will be an afternoon well spent.