Masa's Kitchen 47, hidden away in a basement at the back of Ebisu is a lovely Sichuan chinese restaurant run by Masa.  The decor is modern a little cool but very well done.  There is an imposing marble counter behind which is the kitchen, bustling with chefs and the clatter of the woks.
The lunch menu is simple a short course menu or a choice of a series of different noodle or rice sets.  The sets come with truly divine Shoronpou, served with black vinegar and finely julienned ginger.  Pricing is around 2000 Yen or a litle under, which for Tokyo might feel pricey, but diner here is at least 10,000 Yen.
The food is predictably spicy, but not pure heat.  The chef has taken care to make it rightly spicy.  The use of Sichuan peppers and Chillies leave a very harmonious tingle in the mouth.  The food feels authentic and there are some lovely details.  The Mabou rice comes in a clay pot, which when served is puffing steam as if a dragon was caged inside.  The Okoge at the bottom must be something to relish.  The small soup and the two small amuse-bouche included just take the lunch up a level and make this a lovely lunch spot.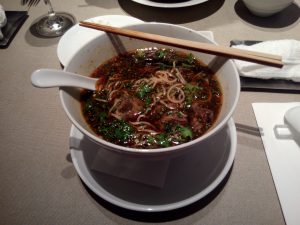 It would probably be wise to book, if you decide to go.  Queues have been witnessed before and it fills up quickly.  On the basis of a couple of lunch visits, Masa's is likely to be a decent diner spot too.  Hopefully a pleasure to be had in the future.