How do you describe this place?  Well, what struck me was the ordinary nature of this place, and how much I enjoyed the experience of going there.  If you speak and read some Japanese, and want to see a bit of real contemporary Japan, this is well worth a visit.  No fancy decor.  No fancy dishes. No special service awards.  Just affordable, tasty food and a lively shitamachi (Suburbia) atmosphere.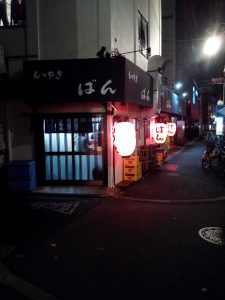 I stumbled on this place returning from Toritsudai by bike.  I had cycled past numerous times and was astonished by the fact it was always busy, despite a seemingly odd location a fair way from any station.  I chanced it and entered.    There was the din of chatter, a waft of grilling meat and bright lights as I walked in.  The locals took a split second to see the odd looking gaijin who just walked in and straight back to their banter.   There are actually two parts to the restaurant and three doors.  I guess testament to an ad hoc expansion at sometime and the fact that the inside is a little cramped.  Ban advertises as a Motsu Yaki restaurant on their Chochin (Paper latern) outside.  Originally it was in Meguro for 40 years or so and 12 years ago moved to Yutenji.  So ready for a little bit of pig offal on skewers, I sat at the counter.  A minute or two deciphering the menu and observing the place, gave me some hints on what to order.  I went with a Lemon Sour, Ama Ebi kara-age, raw cabbage, and a mixture of skewers some of which I had no idea what they were.  And so began the evening.
The three young ladies behind the counter talked Chinese interjecting the odd word of Japanese as they took the order.  The two middle aged men in the kitchen were busy chopping sashimi and grilling skewers.  A Lemon, a jockey of ice and shochu, a lemon juicer and a bottle of soda were plonked in front of me.  I am not sure why but the lemon seemed remarkably juicy. I used just one half and half the bottle of soda seemed enough to fill the jockey.   The otoshi (amuse bouche) was eda mame.  The Lemon sour was strong shall we say, and very refreshing.  The redness of the faces of many of the patrons was testament to this drink.  Then the ebi and the cabbage and skewers came. All very pleasant.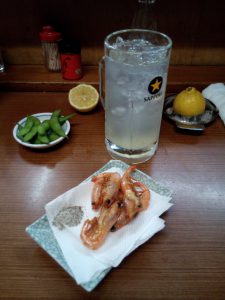 I will share a bit of terminology here for those who decide to visit.  Furansu was neck meat. Kashira was meat from the pigs head.  Tsukune was minced pork and the second variant with Nankotsu (cartilage) added a nice crunch.  Tepou was intestine of some variety. It had a slight odour, reminiscent of the french Andouille (Pig intestine sausage).  I would opt for Tare (dipped in sauce) for the Tepou and Tsukune, but the meat skewers I prefer with salt.  I noticed a few ordering Piman (Green Peppers) to eat with the Tsukune.  A mix I can recommend. The bitter crunchy raw Piman, with the sweet tare meaty Tsukune is a little delight.   There are plenty of mysteries on their menu.  I suspect I might not like them all but this night worked out well.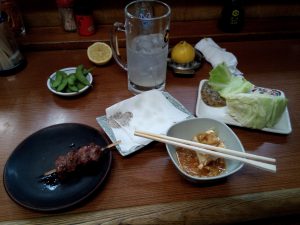 Another interesting lesson was learnt when, my neighbour ordered "Nakami dake" and proffered his empty jockey.  This order was for a shochu refill.  Having drunk most of mine, I thought I should do the same.  This is likely why they give you a whole lemon and why only half the bottle of soda fits in the jockey.  After a little banter with my neighbour, a pottery wholesaler, last orders came and went.  One of the chefs offered me a bowl of NikomiDofu.  They had a special name for it which escapes me, but the heat of the Nikomi did not escape me.  My neighbour informed me that the spiciness of the Nikomi varied day to day, upon the mood of the chef, but that todays was on balance rather mild.  I should not like to order that on one of his bad days, shall we say.  Still it brought a very pleasent evening to a close.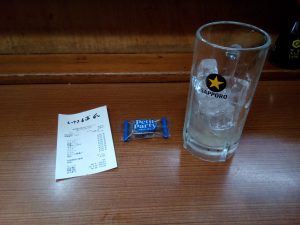 The bill 1950 Yen, an hour and a half well spent soaking up a bit of Japanese day to day life.  There are plenty of mysteries on the menu and this place will never get awards, but it seems to have earned a place in the hear of many of its patrons.  I plan to revisit with some friends to get get through a little more of the menu.
There Website Ban